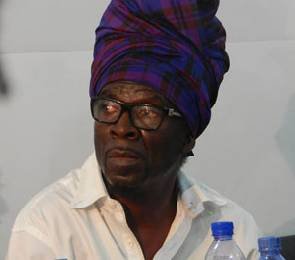 Newly sworn in Chairman of the Ghana Music Rights Organisation (GHAMRO), Kojo Antwi has promised to be transparent and accountable to all members of the music rights body.
The musician, together with eight other board members, was sworn into office as the new Chairman after he contested the position unopposed in Wednesday's GHAMRO elections.
About 3,700 members of GHAMRO cast their votes in Accra, Kumasi and Tamale to elect new board members for the music rights body. Wednesday's elections were the first in GHAMRO's 25-year history.
Kojo Antwi, who was a member of the GHAMRO board that was dissolved by the Human Rights Courts in July 2014, speaking in an interview with Myjoyonline.com said accountability will be his hallmark.
According to him, unlike Carlos Sakyi, "who served as the referee and the player," he will be transparent. He promised to put in place measures to help musicians get full rewards for their works.
The Carlos Sakyi-led GHAMRO board has been asked to account for more than GH?1 million said to have been misappropriated.
Asked about the alleged misappropriation of funds, Kojo Antwi said the former board members responsible for managing funds have to account for every penny they used during their tenure. "They need to account [for the money]; this is stakeholders' money. The money belonged to all of us."
"I think they are being asked to come and give accounts of their services … whatever we have to do" to get them to account for the funds must be done "because if I don't live up to the oath [of office], I have to be prosecuted so I expect them to [do same]," he noted.
The music maestro lamented that the revelation by the interim audit report "saddens me…It was a disappointment" because that board was blessed with some of the best hands in the music industry "but [they] failed."
Kojo Antwi revealed that he will organize a house cleaning exercise and re-register members of the organization.