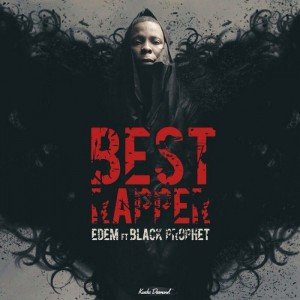 The #Koene Hitmaker has gone totally berserk in his new single and heavily whips other Ghanaian rappers as weak. Says they only "do songs for radio but he does songs for stereo."
The cover art for the hit single alone speaks volumes, and puts Edem in the light of a "rap deity."
Edem claims he is the dopest emcee by all standards. With gingered punchlines in the new song titled "Best Rapper".
"I don't follow trends. They are my sons in the game so I father them. I am the greatest rapper with original trend. They are all my sons because I Father them in the game of rap. Oops, you will know about the rest in the song when it drops," Edem jabs.
The "Best Rapper" single also features Ghana's legendary reggae singer, Black Prophet, who also pangs with his lyrics to endorse Edem as the locoweed of Ghanaian rap. With finely laid lyrics by Edem, the upbeat joint would keep you listening like forever. Edem stomps every kick on the beat with his new style of rap 'like an Arabian King'. Mix Master Garzy did a great job on the joint which passes for a classic piece.
Edem has been super busy this year dropping multiple bangers and accompanying videos ahead of his much anticipated upcoming album "Books And Rhymes".
The African Rap Mogul, Edem, is due to release the "Books And Rhymes" album this October with over 5 accompanying videos for songs on the album. About 35 songs are rumoured to be on the album.