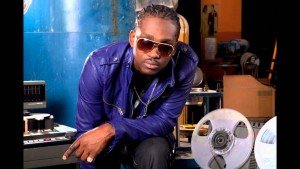 When Busy Signal landed in Malawi he had on a Puma top and one of the Facebook statuses I saw accused him of being one with a common vendor and not like a respected artist.
He was 'shabby' because he was away from office. When Busy came on stage in Salima he was ready to host a TV show, blue creaseless shirt, greyish blazer atop slim fitting pants and black shoes so shiny a girl could use it as a mirror. He was fully official.
Busy is a high flier and despite that and the fat cheque he pocketed, he showed real humility in being in Africa. He did explicitly say this on several interludes specifically highlighting that he is but a son of Africa.
He promised a good show in his promo video and during his first press appearance in Malawi, and he fully lived up to it and he did remind us during the show. He said it's not just in Malawi that he lights up the place, he said he gives a hundred percent even when performing to young school children.
He was said to give a two hour show, but 2 hours fifteen minutes later, he was still on stage and asking the crowd to request songs.
How he can sing that long without losing his voice is a mystery, especially because his dancehall lyrics are packed with words. He drank water only twice or thrice during the show and never left blanks between songs.
How he could infuse 'Malawi' into his lyrics and still not go out of sync is a mystery. He does his homework and planning, remember he was nicknamed Busy Signal because they said he was always busy. His birth name is Glendale Goshia Gordon also known as Reanno Devon Gordon.
When he came onto the scene at the start of the millennium I wrote him off along his fellow new entrants such as Bling Dawg. Cheap lyrics, quasi-gangster affiliations and nothing to offer me, a hardcore reggae fan. I was wrong. Among his contemporaries, he and the likes of the now obsolete Vybz Kartel went on to become men of substance in the music industry.
And of those that made it, very few have managed to conquer Africa in the way Bob Marley, Culture, Yellowman, Shabba Ranks and Burning Spear did. Busy has just done that. And he worked hard for this.
Since he came with his Tic Toc and Nuh Go a Jail Again, he has fine-tuned his game, to me I think he found out that Dancehall is hard to sell beyond the Islands and he slowly went soft, went reggae and brought in conscious lyrics to beef up the cheap dancehall clichés of sex, money and gangster culture.
And he sort of walked us through his journey, he did Nuh Go a Jail Again, Hustle Hard, Unknown Number, Bad Man Place, One more Night, Night Shift, Comfort Zone, Dreams of Brighter Days, Hard Drugs, Night Nurse among his many hits and also dished out a new release Shanty Town which is an updated version of Desmond Dekker's 1967 hit of the same name.
Yes, 1967, and that is what makes Busy Busy… as a reggae don, I know the original Shanty Town song, but for the millions of millennials and slow learners they would never have heard of it if Busy never went to the archives to repackage the song for the current tastes.
My sister never knew of Gregory Isaacs until I told her that the Hard Drugs tune she likes from Busy is actually a Gregory Isaacs'.
That is why I say that where Bob Marley left, Busy Signal is continuing. Just this one trip to Malawi and Zimbabwe and recently elsewhere in Africa is as important a mission to Reggae as Morton Stanley's and David Livingstone's were to their masters.
It is one thing to get old songs, or write catchy ones but performing them is a different story. Ever seen Hip Hop awards where they just play a CD? Yes, boring and banal. Busy joins the cool Jamaicans who recreate the song on stage using a band replete with keyboards, drums and guitars. No CDs.
I mentioned the blazer? It came off soon, his blue shirt was to be drenched in gallons of sweat that streamed off his face and body – understandable since he did about twenty songs, some of which came in ragga stylee.
Busy does songs the audience can sing with, When he says 'we nuh go a jail again' the audience has no choice but to shout 'oh no!' Or the relatable 'Bou-yah' in the song of the same title.
Versatility is the Signal's strength, he showed us that he cannot only do his songs but can also do other's too. He infused bits of songs from Buju Banton, Gregory Isaacs, Cocoa Tea, Chaka Demus and Pliers, Romain Virgo and Lionel Richie with perfect ease.
Still on versatility, Busy did songs such as Dreams of Brighter Days without Righteous Child (RC) who also featured on the song, he also Did Shanty Town without Sugar Roy, he Did Bad Man Place without Mavado but no one noticed their absence, he delivered it so well and so craftily that I did not miss the others.
He however brought along Esco Levi with whom he delivered, perfect at that, the difficult to sing, Wicked Evil Man, again, versatile.
The posters should have included Esco Levi, it was not just one Jamaican star that performed. Esco gave the crowd a good time with a quick performance of Jah Nah Sleep also from the Brighter Days Riddim.
We got to see him in person, now we know he always has a hat on because he is fast getting bald, we know he is not bad man as he sometimes claims, and we know he is fast becoming a conscious reggae player and moving away from dancehall, his Reggae Music Again album being the indicator and its popularity probably his motivation.
My favorite part of Busy's show was when he did a rendition of Bobby McFerrin's Don't Worry Be Happy. He reminded Malawians to stay positive even in hard times. He whistled catchy part into the mic and then pointed the mic at us to bellow out the 'Don't worry' part. Classic.
The rest of the crowd were captivated by Dreams of Brighter Days, for obvious reasons and the ladies loved One More Night and Sweet Love. Th crowd really wanted Busy to do Praise and Worship, but he did not and this would be the only low I can write about.
I sang along so hard, I lost my voice inside an hour, I danced so much, I slept 11 hours straight after that but even then, I cannot match the effort Busy put into the show. And that Sunday morning will go into the memories of many people.