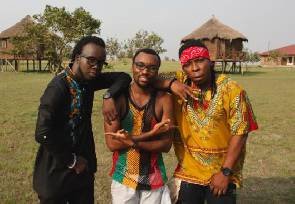 Rapper Edem is undoubtedly an A lister on Ghana's music scene and certainly a force in the Rap game on the continent.
2014 just gone by can pass for an eventful year for the artiste whose hard work was crowned with the launch of his "Best Rapper" Album. The album features heavyweight names in the music business from 4×4 to Black Prophet to Akwaboah to mention a few.
2015 seems to have started on a bright note for Edem as he was spotted on set in the past week, filming for his anticipated hit Zero to Hero, a track that features the silky Akwaboah.
The video also features Actor and Comedian David Oscar who seems to be cementing his versatility with another feather in the cap.
Speaking to the actor, he disclosed that he has been a big admirer of Edem and his music and considered the offer a good opportunity to broaden his scope and give more of himself to his fans.
Edem told our source that the story behind the song is reflective of his personal struggles as an underground rapper, recounting his early days from 2003 when he would trek to hush hush studios until 2009 when he could afford his first car.
Zero to Hero, he said "Is everybody's story particularly when one moves from point one to point two". The video which was directed by OJ of Big OJ Films, promises to be another refreshing Ghanaian work of art.
Watch the behind the scenes video below: