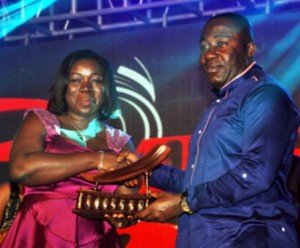 The Musicians Union of Ghana (MUSIGA) has conferred its highest honours to the Chief Executive Officer of Despite Group of Companies, Dr Osei Kwame Despite, former First Lady Dr (Mrs) Nana Konadu Agyemang-Rawlings and Midland Savings and Loans Limited for their immense contributions in various capacities to the arts and entertainment industry of Ghana, especially the music section at second edition of the MUSIGA Grand Ball held at the Banquet Hall of the State House in Accra last Friday.
The event that attracted a large number of the stakeholders in the creative arts industry witnessed historic performances from some of the music giants which include Abrantie Amakye Dede, A.K Yeboah, among others.
A citation to Dr Osei Kwame Despite read: "At a time when most media organisations in Ghana were busily promoting western music, Dr Osei Kwame Despite, introduced Peace FM, that devoted 99 percent to Ghanaian music.
Even before his foray into the media, he had established himself as a leading producer and distributor of Ghanaian music having worked with the tallest list of Ghanaian artistes.
Till today, his Despite Music Shop continues to be a one-stop shop for all kinds of Ghanaian music serving as a depository for music over the years. The addition of Hello FM, Okay FM, Neat FM and U-TV to his media group meant even more exposure for Ghanaian music and culture. Dr Osei Kwame Despite has given the single biggest media support to MUSIGA activities."
The former First Lady Nana Konadu Agyemang- Rawlings was highly instrumental in the allocation of the current MUSIGA headquarters to the union. This was at a time when MUSIGA desperately needed a headquarters to commensurate the growing stature of the union," the citation said.
In a video message, the former First Lady of the Republic said, "This is not just an honour; it's a reflection of how the music industry does not forget those who help in propelling its success. I am more than grateful."
Midland Savings and Loans Company was also honoured for working with the key stakeholders in the music industry in Ghana with a citation reading: "You've been working with key industry stakeholders on various projects, including giving over GH¢2 million in loans to musicians in the AJUMAPA Loan Scheme.
You have supported the Vodafone Ghana Music Awards car prize donation; Ghana Music Week and the Grand Ball. Also, you have supported the government-sponsored KPMG research on the music sector, aimed at establishing the economic contribution of music to Ghana's economy.