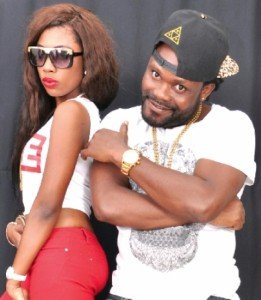 Former Big Brother Africa housemate, Selly, can be a rather funny young woman sometimes, people who are close to her say.
The actress and television show host is asking her boyfriend of four years-plus to do an unusual thing, propose to her all again.
Selly's boyfriend, Praye Tietia, a member of the once popular Praye Hiplife trio, curiously was the one who set Selly's mind to the unusual request.
Last month, when Selly's mother was marking her birthday, Praye sent her a message on Facebook referring to her as 'mother-in-law'.
He wrote, "Happy Birthday to the most amazing mother-in-law. I love you." But it seems the harmless gesture was taken quite seriously by some people. Their case?
Praye Tietia also known as Big J should not refer to Selly's mother as an in-law since there had not been formal rites to tie their union.
The argument had gone back and forth in social media circles until last Tuesday when Selly came to the defence of her heartthrob. "We have both noted the concerns of many of our fans and followers but we don't want to be pressured at all.
Why the pressure? There shouldn't be anything of that sort because we are two mature adults and know what we are about," she said.
According to Selly, who is in her twenties, as the only child, she has been receiving similar concerns from her mother but has convinced her into understanding that the "real deal will come on when the time is due."
The exposure from her Big Brother participation no doubt opened many opportunities for Selly afterwards and she admitted that, she is poised to make a success out of such endeavours, the reason she said have put their legalising their relationship on hold for now.
"It is not that I appreciate being with a man who has not formally married me. I know my worth as a woman. It hurts to read some demeaning comments about my person, but I want people to know that, I don't want my children to go hungry, so I'm building a strong future for them.
"Thankfully, after Big Brother, I have had big deals and opportunities and I want to build my career. That is what I'm doing now. Marriage would come afterwards. But for now, I say 'we don't need this pressure," she stated.
Even though Selly has been defending Big J, she took a romantic swipe at her sweetheart when she issued an "ultimatum" to him to officially propose to her again.
"He gave me a promissory ring two years ago just to drive away the men but I want a special proposal this time around. That proposal has expired. I want a new one," she jokingly said.
Currently, the host of Cine Afrik Premieres on Multi TV, Selly who lost out on the award for the Most Promising Actress at the City People's Awards earlier this year said she has plans on hitting it big on the screens next year.
"I thank God that my show on Multi TV is doing well, and my acting career is also getting better each day. I'm just grateful people appreciate the talent that I have. But the public should expect something big from Big J and I soon," she hinted.
When asked to give details of the "hidden" project, she remarked, "It is a surprise so would lose its secrecy when I disclose what we have in store. What I can say for now is that, there is a new branded Praye Tietia in the making."
As a way of giving back to the society, Selly noted that she plans on spending her birthday which falls on September 26, with some orphanages in the country.
She said that her fans should watch out for the launch of her new cosmetic range of products this year.
Source: Graphic Online