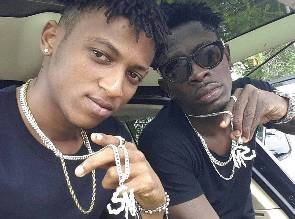 ,Dancehall artiste Shatta Wale has said that he has forgiven his former right-hand man, Ara-B, who left him to start his own label.
Shatta's statement comes just days after a video of the two in a nightclub surfaced.
Ara-B left Shatta Movement in May last year to form OsuMania Records (OSM), and many months down the line, the project has not been fruitful. Ara-B has therefore made a u-turn to apologise to Shatta Wale.
The 'Dancehall King' posted on his Facebook page on Thursday that he has accepted Ara-B's apology. Shatta Wale said he's happy he and his former right-hand man did not go about "saying nasty things". He said: "FORGIVENESS IS EVERYTHING….ARA-B has called to say he is sorry and he feels he needs to let the world know..At least he didnt go about saying nasty things about me nor the whole SHATTA MOVEMENT EMPIRE but since he has come back to apologise..I SHATTA WALE HAVE ACCEPTED ..OSM PLUS SM EQUALS SM…He is bold and i like that."
Shatta Wale earlier shared a video on Snapchat showing him and Ara-B in the club.